ARSHI FIRST CALF FROM "MADE IN INDIA" ABS SEXCEL - SEXED SEMEN
Arshi means the first sun rays of a rising sun. It is also the name of the female calf born at Saraswat Dairy Farm at Karab village in Mahaval tehsil Mathura, UP.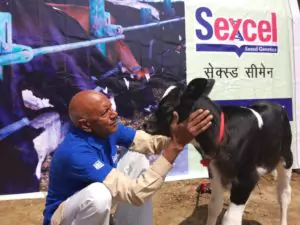 Jaidev Saraswat opened a dairy farm about two years ago with 20 pregnant cows at his native village Karab after retiring as Dairy Superintendent from the Livestock Research Centre, Pantnagar. He soon got many male calves and could not do much about them as they kept on draining dairy resources and increasing operational expenses. He decided to use Sexed semen from next time, but it was either not available or he had to import at very high price after a long permit process. In the meantime, he read about ABS bovine genetics company launching SEXCEL sexed semen in
India as ABS started sexed semen production for the first time in the country in Maharshtra under "Make in India" initiative. He was happy to note that prices were also affordable due to local production and he used ABS Sexcel Semen from their top genetics.
Though Sexed semen gives best results on heifers but Jaidev was determined to avoid unproductive male calves for better dairy returns. He went for it and got 16 cows pregnant after using 40 straws in lactating cows.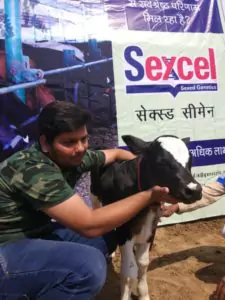 He was elated to get female calf from the 1st animal due for delivery on 6th March 2018. The fact that he became the first in India to get first Sexcel female calf from Made in India Sexed semen, added to his joy.
"Other farmers should also use this as male calf is only a loss. I am delighted and very happy to have 16 pregnancies from sexed semen. Thanks to ABS as it is going to increase my profitability in future" said Jaidev
ABS India has invited Mr. Jaidev Saraswat to the only bovine semen sexing lab in India – Brahma at Maharshtra through a fully paid trip and to honour Mr. Jaidev – the proud owner of ARSHI – the first calf from SEXCEL sexed semen made in India ever.
Jaidev Saraswat was gifted a Sexcel gift by the ABS team at his Saraswat Dairy Farm. Alongside his grandson, Jaidev sporting Sexcel T shirt, posing for cameras with a broad smile and Arshi next to him was absolutely elated and exuding with pride.
Both Arshi and Jaidev have created history and so is the Karab village of UP.