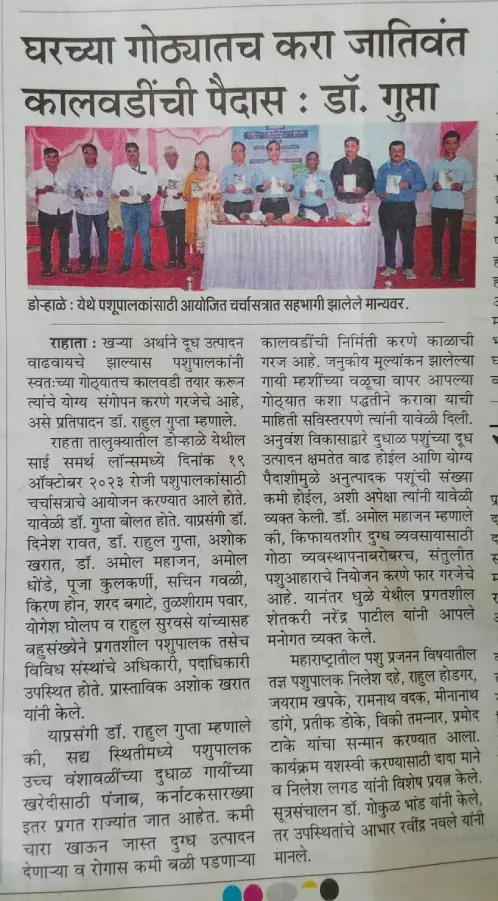 Farmers' Meet on Agricultural Innovations and Livestock Nutrition Held in Maharashtra
On October 19, 2023, Genus Breeding India Private Limited, in collaboration with Baramati Agro and Navnath Milk Collection and Chilling Centre Rahuri, organized a highly successful farmer's meeting at Shree Swami Samarth Lawns, Deola, Rahata, Ahmednagar, Maharashtra. The event saw an impressive turnout with over 200 enthusiastic farmers in attendance.
The esteemed speakers from Genus Breeding India Private Limited included Dr. Dinesh Rawat, General Manager, Dr. Rahul Gupta, Operations Head, Mrs. Puja Kulkarni, Head of Accounts and Taxation, and Mr. Nilesh Lagad, Sales Manager. Their presentations delved into the imminent developments in animal genetics and underscored the pivotal role of genetics in the view of dairy farming. Dr. Rahul Gupta, in particular, took the time to address the various concerns raised by the participating farmers, providing them with valuable insights and guidance.
The event was hosted by Mr. Gokul Bhand and Mr. Ashok Kharat from Navnath Milk Collection and Chilling Centre Rahuri, who ensured the smooth functioning of the program and created a warm and inviting atmosphere for the attendees.
Dr. Amol Mahajan, Extension Head for Animal Nutrition at Baramati Agro, also graced the occasion with his valuable insights. He emphasized the critical role of nutrition in the well-being and productivity of cattle, shedding light on the importance of a well-balanced and nourishing diet for the optimal growth and health of livestock.
The event served as a platform for meaningful discussions and fruitful exchanges of ideas, promoting a greater understanding of the latest advancements in agricultural practices and emphasizing the significance of leveraging cutting-edge technologies and nutritional interventions to enhance the overall productivity and sustainability of dairy farming.
The attendees left the event equipped with a deeper understanding of the role of genetics and nutrition in the agricultural sector, poised to implement these insights into their farming practices, thereby contributing to the growth and development of the agricultural landscape in Maharashtra.
The success of the event was a testament to the commitment of all participating organizations towards fostering a collaborative environment that empowers farmers with the knowledge and tools necessary to thrive in an ever-evolving agricultural industry.